Run your business phone system in the cloud.
Jive Hosted VoIP is the easiest and most affordable option for your business phone system. Jive's cloud VoIP service helps thousands of organizations simplify how they manage their phone and conferencing setup.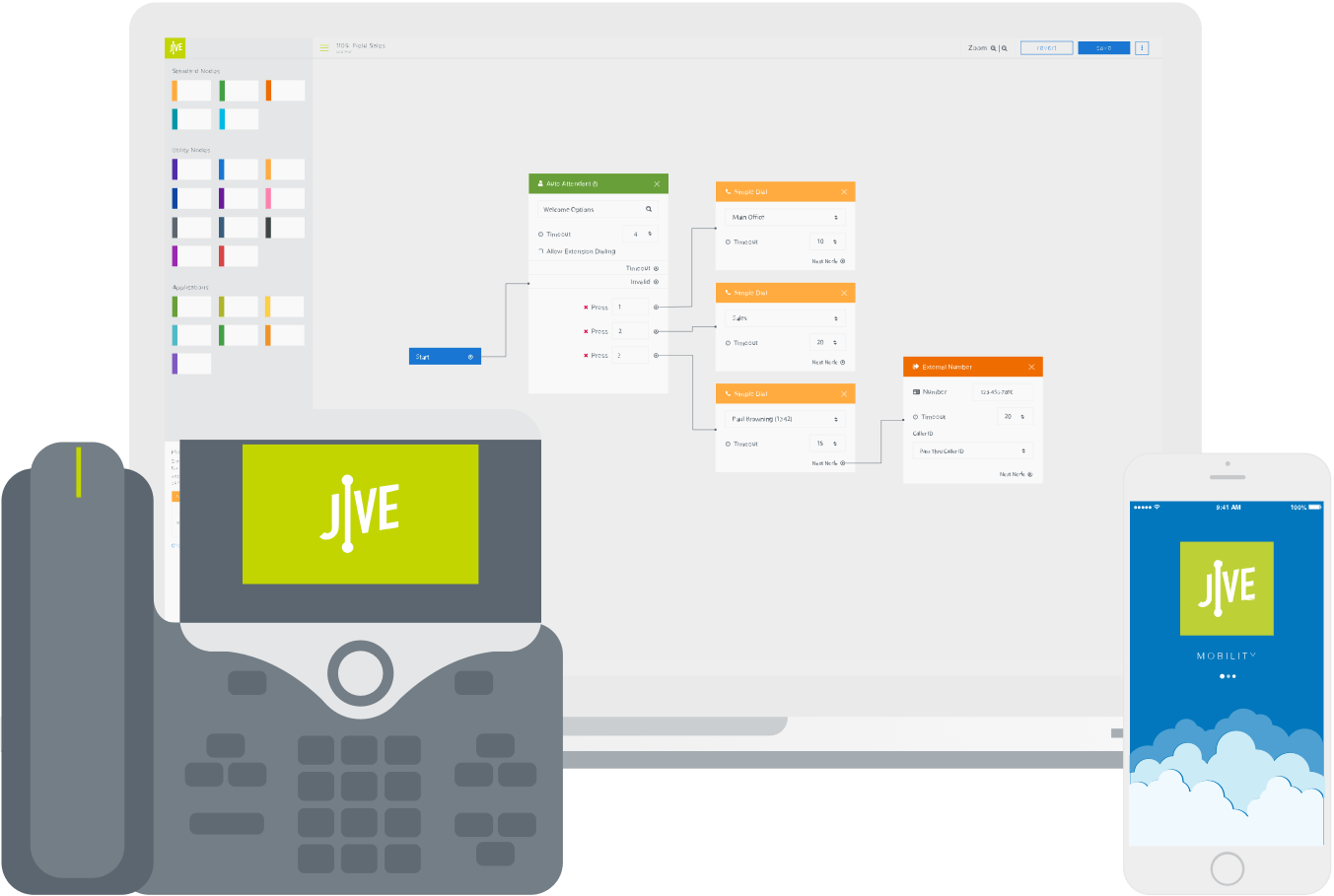 The best in communication. The best in collaboration. Now in one solution.
Instantly cut your costs when you combine voice and video.
Jive Voice Explained
Jive Voice is an efficient and cost-effective online phone system for your business. It is easy to set up new users from any device and runs on Jive cloud, so you experience the best phone quality no matter where you are or how many employees you have.
Why use Jive's Business Phone System?
Our cloud-based and virtual business phone services make your organization more efficient and easier to manage. Jive replaces outdated phone equipment with a cloud hosted Private Branch Exchange (PBX), which means your desk phones and smart devices work together and can easily be managed online or through our mobile app.
Cloud-based phone systems help improve interactions with your clients through robust call features, texting, and integrations with your CRM and other software applications. Turn any location into a workplace, reduce your current expenses, and start taking calls.
All the features you need to succeed
Jive Voice offers a reliable enterprise-grade PBX with over 80 Hosted VoIP and Unified Communications features to help your organization communicate more effectively. Both basic and advanced features are included, such as call forwarding and free international calling to 52 countries. These powerful features make it possible to always stay in touch with your employees no matter where they are in the world. Plus, each system is easily customizable and scalable, so you can feel confident you have a phone system that will continue to meet your needs as your business grows and changes.
Auto-Attendants
Eliminate the need for a live attendant. Unlimited auto-attendants are included with every Jive solution and offer automated answering, prompts, and call routing based on the caller's inquiry. Callers have the option to exit out of auto-attendant or dial direct extensions at any time.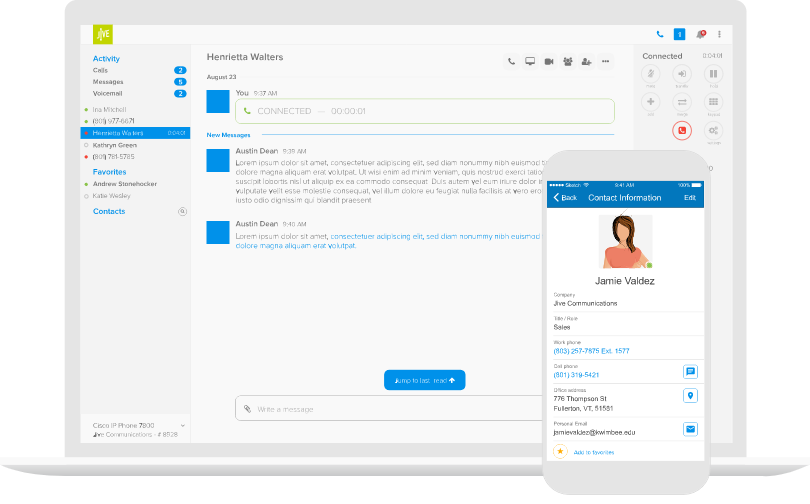 Voicemail to Email
Listen to your voicemails from your email – no prompts required. Your voice mailbox can be configured to automatically and instantly send voicemails as sound files to your inbox, allowing you to simply click on the link to listen to the message, anytime and anywhere. Save, delete, and forward any voicemails from your inbox and the changes will be reflected automatically in your system.
Ring Groups
Easily group a set of devices together so they all ring when a specific extension is dialed. All devices in a ring group will ring simultaneously and stop once the call is answered, allowing your employees to quickly and efficiently answer calls.
Auto-Attendants

Call Routing and Forwarding

Desktop Integration

Find Me/Follow Me

Online PBX Controls

Toll-free Numbers
Call Analytics

Cloud PBX

Dial Plan Editor

Hot Desking

Ring Groups

Unlimited Extensions
Call Queues

Conference Bridge

Do Not Disturb

Local Numbers

Softphone

Virtual Fax
Call Recording

Custom Greetings

E911

Music on Hold

Time-Based Routing

Voicemail to Email
Video Conferencing Now Included with Jive
Cloud-based video conferencing is now included as part of Jive's all-in-one conference phone system. Our unified communication solution allows for real-time collaboration with colleagues across the world through face-to-face virtual meetings, video messaging, and direct conferencing.
Excellent HD Quality and 99.999% uptime SLA
Jive Voice gives priority to voice and video conferencing over other kinds of internet traffic, helping to reduce congestion, latency, and packet loss. This prioritization ensures excellent HD quality for all your calls and video conferences. Plus, our 99.999% uptime provides customers with reliable, industry-leading cloud services and robust system security. You can feel safe trusting our cloud phone service for all your communications needs.
Jive Voice Integrates with